2024 Volvo EX90
Meet the new fully electric SUV
The Volvo EX90 is a revolutionary new vehicle that is sure to change the way drivers experience the road. Want to learn more? Check out some of the preliminary specs below, then reach out to arrange an EX90 reservation. Lay claim to the new electric Volvo you want today by visiting our Volvo dealership near Columbus and submitting your preorder.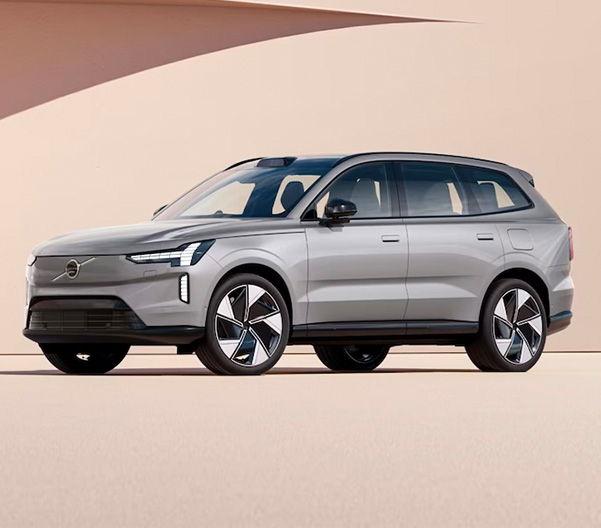 2024 Volvo EX90 Specs & Performance
The Volvo EX90 specs sheet is highlighted by two powerful electric motors that together produce up to 496 horsepower. This powertrain rides on an all-new chassis designed specifically for electrification -- a distinct departure from other electric SUVs, many of which ride on adapted gas-engine platforms.
The biggest question on the mind of new Volvo preorder customers concerns the EX90 range. We're proud to say that this electric Volvo offers Ohio drivers up to 300 miles of emissions-free driving, making it the ideal choice for EV buyers who want peace of mind during long journeys. When it does come time to replenish the battery, the EX90 can charge from 10 to 80 percent in as little as 30 minutes.
2024 Volvo EX90 Interior Features
The Volvo EX90 technology features are ushering in a new era of automotive connectivity. Local drivers are especially impressed by the large touchscreen display that can be used to control the car's navigation and entertainment systems. The car also has several driver-assistance and other advanced safety features, which can be yours if you preorder a new Volvo EX90 nearby.
Preorder a 2024 Volvo EX90 Near Me
One thing is for sure: this new Volvo EV is going to be a popular choice among Ohio drivers looking for a luxurious, efficient and safe electric car. With its impressive range, advanced technology features, and stylish design, the Volvo EX90 should be at the top of your list if you want a new EV near Columbus you'll love.