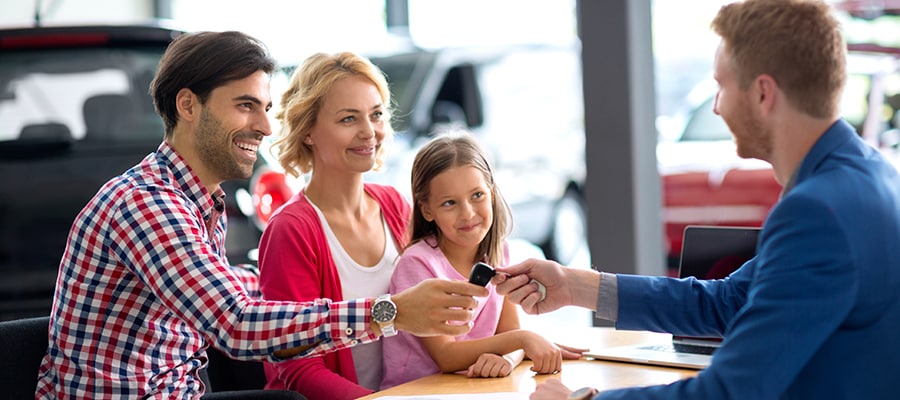 Find Your Financing Solutions at MAG Volvo Cars of Dublin
Here at MAG Volvo Cars of Dublin, we want to make your Volvo ownership dreams a reality. After you explore our new and pre-owned inventory and find the perfect Volvo vehicle, it's important to visit our finance center next. Our professional auto finance team, proudly serving the New Albany area and beyond, can help you find the right financing plan for your budget. We want you to feel confident and excited when purchasing your dream Volvo!
Why Meet With Our Finance Team?
Our team wants to make the sometimes-difficult financing process as simple and transparent as possible. Our finance professionals can work with your specific financial requirements with ease, to ensure that your loan, lease or repayment plan are all perfect for you.  So, whether you're looking for a low down payment and an extended payment plan or a large down payment, we're able to find a solution. Our customers in the Columbus area also appreciate our team's Volvo loan and lease knowledge.
Should You Purchase or Lease Your New Volvo?
If you're not sure whether to purchase or lease your favorite Volvo vehicle, we encourage you to weigh the pros and cons of both. Our finance team would be happy to work with you to find the solution that's best for your lifestyle. Here are some things to consider-leasing may be the right choice for you if:
You don't drive much monthly. Leases have mileage limits, meaning you can't drive more than the miles you're allotted during your leasing period. However, Upper Arlington drivers who have naturally low mileage would find great value in a lease.
You prefer to drive the newest models. When you lease at MAG Volvo Cars of Dublin, you can lease the most recent Volvo models. And since a lease period is only a few years at most, once it's over you can easily begin to lease an even newer Volvo. You don't have to worry about fully paying off your vehicle, only to want a new one as soon as you pay it off.
You want lower payments. If you want a lower monthly payment, a lease is the right option for you. Additionally, if you don't want to worry about the trade-in value of your vehicle years down the line, and just want an east transition between Volvo vehicles, then you should lease your next Volvo. When you leasing period is done, you can return your Volvo and begin another.
Purchasing your next Volvo might be right if:
You want no restrictions on your vehicle. If you want no limits on how much you drive yearly, as well as things like customization, then you should buy your Volvo vehicle. When you purchase your vehicle, you get to make the decisions.
You don't mind a higher monthly payment. Hilliard Volvo customers who don't mind a higher monthly payment will appreciate purchasing their next Volvo vehicle. While payments are higher, there are no restrictions and rules about how to take care of your vehicle.
You want a vehicle that'll last for years.If you're looking for a vehicle to keep long-term, we suggest purchasing. Volvo vehicles are built to last, and if you want to pay off and fully own your vehicle for years to come, we believe purchasing is a great route.
Visit Our Finance Center Today in Dublin, OH!
If you'd like to explore your Volvo financing options, we encourage you to visit use here at MAG Volvo Cars of Dublin. You can even get started on financing before visiting our dealership by filling out our online finance application. We look forward to finding you the perfect Volvo vehicle at our Dublin, OH dealership soon!
Start Your Application
Your privacy is important to us.
MAG Volvo Cars Dublin takes your privacy seriously and does not rent or sell your personal information to third parties without your consent. Read our privacy policy.
Hours
Monday

9:00 AM - 7:00 PM

Tuesday

9:00 AM - 7:00 PM

Wednesday

9:00 AM - 7:00 PM

Thursday

9:00 AM - 7:00 PM

Friday

9:00 AM - 6:00 PM

Saturday

9:00 AM - 6:00 PM

Sunday

Closed
See All Department Hours
Dealership Hours
Monday

9:00 AM - 7:00 PM

Tuesday

9:00 AM - 7:00 PM

Wednesday

9:00 AM - 7:00 PM

Thursday

9:00 AM - 7:00 PM

Friday

9:00 AM - 6:00 PM

Saturday

9:00 AM - 6:00 PM

Sunday

Closed
Parts Dept. Hours
Monday

7:30 AM - 6:00 PM

Tuesday

7:30 AM - 6:00 PM

Wednesday

7:30 AM - 6:00 PM

Thursday

7:30 AM - 6:00 PM

Friday

7:30 AM - 6:00 PM

Saturday

7:30 AM - 6:00 PM

Sunday

Closed
Service Dept. Hours
Monday

7:30 AM - 6:00 PM

Tuesday

7:30 AM - 6:00 PM

Wednesday

7:30 AM - 6:00 PM

Thursday

7:30 AM - 6:00 PM

Friday

7:30 AM - 6:00 PM

Saturday

7:30 AM - 6:00 PM

Sunday

Closed